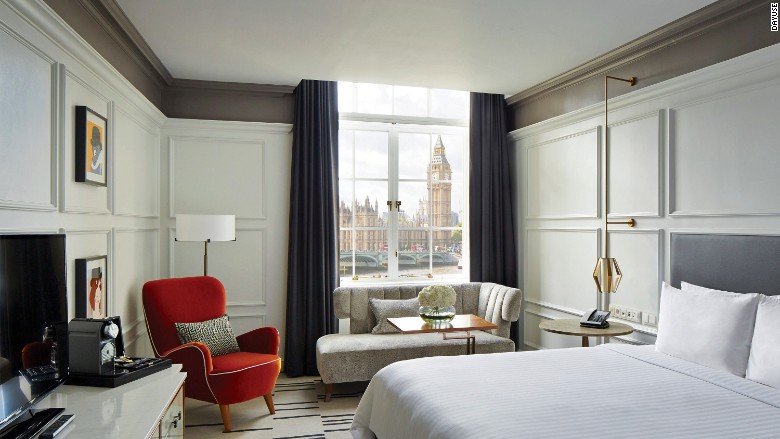 People who are doing business of guest house or hotline should know that they have to keep their guest rooms ready always. So that you would have everything ready for random guests in your hotel or guest house. Especially on the vacations guests use to come from far away areas that's why it is very important that guest room will make them feel right at home. It should be comfortable and appealing where guests could easily spend their day simply by relaxing for some time. Here in this article we are discussing some very important guest room decorating tips that will help you to decorate guest rooms in a way that will make your guests feel at home.
1. Make Guest Rooms Spacious with Smart Furniture:
The first thing that guest house owners should do is to create enough space for guests by using small and smart items that could actually make a big difference:
For this you can simply set a small table or cabinet where he could store his luggage.
Other than that if you have limited space present for closet in the room. Then you can opt to install over-the-door hooks used for hanging clothes.
Other than that, you can simply install a simple hook right on the wall or even behind your closet door of the washroom.
2. Opt to Consider Details While Decorating Rooms:
While decorating the guest room never forget to consider even the smallest details. Just like keeping towels, magazines, books or decorative pieces. Other than that, keep in mind that you have to place the appliances also in your guest room that will help you to give it a personalized touch. And make the guests feel at home. Just like you can place a bottle cooler, dispenser, Gastronorm storage freezer or smart TV. Keep in mind that people who are running a guest house business should make sure that all important appliances are present in the room. As that will help them to make your guests feel at home.
3. Use Glamorous Lighting in Guest Rooms:
Another thing that you should consider while designing rooms in the guest house or hotel is to use glamorous lighting. Keep in mind that you can simply give the room an intimate effect simply by adjusting the right type of lighting. You should prefer to have some table lamps or floor lamps that will give your room a psychedelic feel or else it will add some variety of colours within the room. You can add fairy or string lights in the space for some relaxing and warm ambiance. Experiment with one art piece displayed over the bed head. Add glamour to your bedroom by replacing your lights with hanging light.
4. Use Invigorating Colors in The Room:
The next thing that you can do to make the rooms of the guest house or hotels appealing is to use attractive colours. Keep in mind that you can add colours in so many different ways. So yes for this you can use colourful wall paint, add texture in bedding, hang colourful curtains or else place colourful rugs. Other than that, you can simply opt to use different bright and attractive colours in your washroom like hues of red, orange, green and brown that will make it more attractive and appealing.